Following my recent post on pride, I felt it essential to follow up with some thoughts on its opposite……Humility.
These day I guess it's an unfashionable word. The dictionary defines humility as "modesty" and "lacking in pretense", but that doesn't mean humble leaders are meek or timid.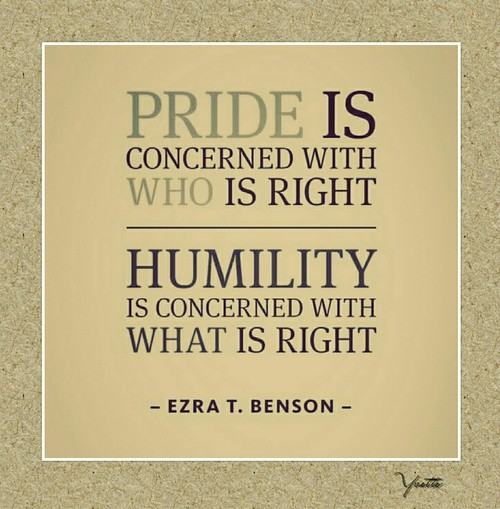 Ezra Taft Benson shared "Humility does not mean weakness. It does not mean timidity. It does not mean fear. A man can be humble and fearless. A man can be humble and courageous." I also love this anonymous quote that states: "Humility is not thinking less of yourself, but thinking about yourself less". Humility is selfless not selfish. In fact I believe that humility is being authentic without any pretence or arrogance. It is really about being true to yourself and knowing your limitations, from the inside out.
In Harry M. Jansen Kraemar's book "From Values to Action" he dedicates a whole chapter (4) to genuine humility as one of the principles for values based leaders. He states "you recognise the value in everyone; you know you are no better than anyone else; and the higher you move up the organisation, the more you stay grounded."
In recent years, the idea of humility has been receiving a lot of renewed attention in the business world.  In my coaching conversations it is quite noticeable that many organisations have begun to really prize humble leaders over the prideful overbearing kind.  Why?  Well as the following two articles point out they "listen well, admit mistakes and share the limelight"  See  "The Case for Humble Executives"   See also a Harvard Business Review article from a few year ago, it states that "The Best Leaders are Humble Leaders".
In addition to the four suggestions made in the HBR articles I'd like to ask further – how do we cultivate humility?  In our my own practice, the first of our strapline words is Reflect. As I have written about previously, I am an avid journal writer. By chronicling in my journals what goes well and what could have gone better enables me to learn from my actions. Over many years of doing this I've discovered that there is always room for improvement.
I have been fortunate to work with many humble leaders over many years. It has been my experience that humility inspires loyalty, it also helps to build and sustain cohesive, productive teamwork. Jim Collins was a fan of CEOs he saw demonstrating modesty and leading quietly, not charismatically, in his bestseller Good to Great. He called these CEOs Level 5 executives.
Collins found Level 5 executives built enduring greatness through a paradoxical blend of personal humility and professional will. They channelled their egos away from themselves and into the larger goal of building a great company. At a deeper level, he found that for leaders to make something great, their ambition had to be for the greatness of the work and the company, rather than for themselves.
Humility, like other virtues, can be developed. We can actually become more humble if we focus on appreciating the strengths of others and serving them, on being teachable and admitting our mistakes.  That doesn't mean that choosing humility will be easy!  In his autobiography, Benjamin Franklin tells of his determination to develop a worthy character. To do so, he wrote a list of twelve virtues he most wanted to achieve and then came up with a plan to practice each one.  A friend, after learning of the plan suggested that he may add one more virtue to the list.  Franklin agreed, and he added humility.  It was only later in life that Benjamin Franklin stated that it was the virtue of humility that allowed him to have such great influence for good .
We need…… no, we must continue to share this message in our homes, communities and business organisations to better prepare those who lead now and in the future.
Final Points to Ponder….
What are some ways I could recognise pride in my speech, my attitudes and my actions?
As outlined, humility is the antidote of pride. How can I develop humility?
Daryl Watson has a strong successful track record of senior leadership roles in the financial, retail, transport, security and public sectors.  He helps every client by reflecting upon their current reality, to refresh their mind-sets and generate sustainable results that will help them to leap beyond their own perceived limits.  He believes that when we pause to reflect on challenges we clarify our current reality. What has changed is how we see the situation.